COIR INDUSTRY – WHITE CATEGORY
The Tamil Nadu Pollution Control Board (TNPCB) announced the withdrawal of its proceedings categorising the coir industry under the 'orange' category.
The industry was reclassified from white to orange in 2021.
It means that it was shifted to the category of polluting industries.
It has to obtain the approval from the TNPCB for setting up these units.
With the latest announcement, the coconut husk retting, de-fibering, and pith processing industry will remain in the white category.
Classification of Industries :
According to the Central Pollution Control Board (CPCB) norm, industries are classified as red (high pollution), orange, green (moderate pollution) and white (no pollution), based on their pollution levels.
GLOBAL HUNGER INDEX
India has been ranked 111 among 125 countries in the Global Hunger Index.
India stands in a group of 40 countries where the scale of global hunger has been termed as 'serious'.
The overall GHI score of India is 28.7.
The calculation of this score is done on a 100-point scale.
The higher the score, the worse is the performance of the country.
The report was released by 'Concern Worldwide' and 'Welt Hungerhilfe', two NGOs from Ireland and Germany.
Four factors were taken into account for calculating the GHI scores:
undernourishment (refers to the entire population – both children and adults);
child stunting (share of children who have low height for their age);
child under-5 mortality;
child wasting (children who have low weight for their height).
All these indicators are components of the universally agreed UN Sustainable Development Goals (SDGs).
India's performance on four parameters:
India's child wasting rate is at 18.7 percent.
It is the highest child wasting rate in the report.
The child stunting rate is 35.5 percent.
The prevalence of undernourishment is 16.6 percent.
The under-five mortality rate is 3.1 percent.
'PROJECT NILGIRI TAHR' LAUNCHED 
TAMIL NADU
Nilgiri Tahr is an endangered species endemic to the Western Ghats. There are references to Nilgiri Tahr in the Sangam Tamil literature.
The 'Nilgiri Tahr Project' is a five-year program.
The project has an outlay of ₹25 crore.
It aims to develop a better understanding of Nilgiri Tahr population, distribution and ecology, re-introduction of Nilgiri Tahr to their historic habitats, addressing proximate threat to Nilgiri Tahr.
It also aims to increase awareness among the public about the Nilgiri Tahr species.
It is an endangered species endemic to the Western Ghats.
It is known for their "gravity-defying skills" in climbing steep cliff.
The Tamil Nadu government also announced October 7 as 'The Nilgiri Tahr Day' in honour of E.R.C Devidar.
He had pioneered the first study on 'The Nilgiri Tahr' in 1975.
INDIA AT ASIAN GAMES-2023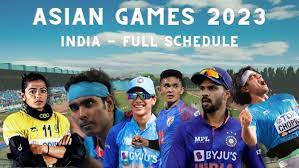 India has participated in all editions of theAsian Games.
India played an integral role in the establishment of the Asian Games.
India even hosted the inaugural edition in New Delhi.
India's best medal tally came at the Asian Games 2023 in Hangzhou, the People's Republic of China.
India won a record 107 medals, surpassing their previous-best haul of 70 from Jakarta 2018.
BAIGA TRIBAL GROUP GETS HABITAT RIGHTS IN CHHATTISGARH
Baiga, Particularly Vulnerable Tribal Group (PVTG) became the second to get habitat rights in the state, after the Kamar PVTG.
A total of 19 Baiga villages with a population of 6,483 people (2,085 families) have been given the habitat rights.
What are habitat rights?
Habitat rights recognition provides the community concerned rights over their customary territory of habitation, socio-cultural practices, economic and livelihood means, intellectual knowledge of biodiversity and ecology, traditional knowledge of use of natural resources, as well as protection and conservation of their natural and cultural heritage.
Habitat rights safeguard and promote traditional livelihood and ecological knowledge passed down through generations.
They also help converge different government schemes and initiatives from various departments to empower PVTG communities to develop their habitats.
What does 'habitat' mean, under what law are such rights granted?
Habitat rights are given to PVTGs under section 3(1) (e) of The Scheduled Tribes and Other Traditional Forest Dwellers (Recognition of Forest Rights) Act, 2006 also known as the Forest Rights Act (FRA).
According to Section 2(h) of FRA, "Habitat includes the area comprising the customary habitat and such other habitats in reserved forests and protected forests of primitive tribal groups and pre-agricultural communities and other forest dwelling Scheduled Tribes."
 Which tribes are termed PVTG?
According to the ministry of tribal affairs, tribal communities who are technologically backward, who have stagnant or declining population growth, extremely low level of literacy, and a subsistence level of economy are declared as PVTG.
PVTGs have low health indices and largely reside in isolated, remote, and difficult areas in small and scattered hamlets/habitats.
The ministry has identified 75 PVGTs in 18 states and one Union Territory. In 2019.
 OCTOBER 12 – WORLD ARTHRITIS DAY
Arthritis refers to joint pain or joint disease, the inflammation or swelling of one or more joints.
The two common ones are osteoarthritis and rheumatoid arthritis.
In osteoarthritis, the cartilage, which is the connective tissue that covers the ends of your bones where they form a joint, wears down, causing the underlying bone to change.
It frequently occurs in the hands, knees, hips and spine.
Its prevalence tends to increase with age.
The other common condition, rheumatoid arthritis, is a form of autoimmune inflammatory arthritis.
The immune system attacks healthy tissue, causing painful swelling in the affected parts.
It affects the lining of your joints, and can eventually lead to bone erosion and joint deformity.
Theme of World Arthritis Day 2023 : "Living with Rheumatic and Musculoskeletal Diseases (RMD) at all stages of life".
 INTERNATIONAL DAY FOR DISASTER RISK REDUCTION – 13 OCTOBER
The International Day for Disaster Risk Reduction was started in 1989.
Theme for 2023:  Fighting inequality for a resilient future. Let's Break the Cycle!
The International Day for Disaster Risk Reduction was started in 1989.