COMMITTEE TO MANAGE TRAFFIC CONGESTION
The Tamil Nadu government has recently constituted a high-level committee led by Chief Secretary Shiv Das Meena to monitor and manage traffic congestion in the Greater Chennai Corporation (GCC).
The committee has a chairperson, a member secretary, and 16 members.
It will meet once every two months.
Discussions on road improvement works, traffic regulation and management, regulation of eateries on footpaths, parking issues and various measures were done for smooth traffic management in the GCC.
EGYPT – "GOLD TIER" STATUS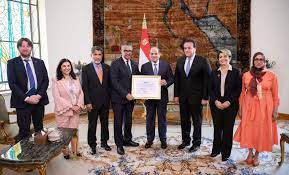 WHO has announced that Egypt had made "unprecedented progress" towards eliminating hepatitis C.?
Egypt became the first country to achieve "gold tier" status on the path to elimination of hepatitis C as per the global health body criteria.
Egypt has diagnosed 87% of people living with hepatitis C and has provided 93% of those diagnosed with curative treatment.
The most common route of hepatitis C virus spread is injection drug use.
'AMRIT KAAL VISION 2047'
Prime Minister Narendra Modi on Tuesday unveiled the 'AmritKaal Vision 2047', a long-term blueprint for the Indian maritime blue economy.
It was done while inaugurating Global Maritime India Summit 2023 in Mumbai.
The blueprint outlines strategic initiatives aimed at enhancing port facilities, promoting sustainable practices and facilitating global collaboration.
The capacity of major ports in India has doubled.
Thee turnaround time for big vessels has come down to less than 24 hours compared with 42 hours.
U.N. PROMOTION AWARD 2023
'Guidance' has received the prestigious United Nations Promotion Award 2023.
It has won the award for excellence in scaling up energy transition investments.
It was given at the 8th World Investment Forum held in Abu Dhabi.
The biennial World Investment Forum monitors mainstreaming of sustainable development goals by investment promotion agencies.
'Guidance' is the nodal agency for investment promotion under the Department of Industries, Investment Promotion and Commerce under Government of Tamil Nadu.
First solar investment project:
Guidance was receiving the award for facilitating the first solar investment project with a fully vertical integrated photovoltaic thin film solar module manufacturing facility, notably through green incentives and higher training incentives for women.
This project will facilitate access to low-cost solar panels and contribute to more sustainable cities in India.
The award is in recognition of Guidance's efforts to attract investments through innovative approaches for promotion, and partnerships in energy transition promotion.
PRIME MINISTER'S DIRECTION TO ISRO
Prime Minister chaired a high-level meeting to assess the progress of India's Gaganyaan Mission.
He has directed the Indian Space Research Organisation (ISRO) to set up an Indian-crafted, indigenous space station (BharatiyaAntariksha Station) by 2035 and land an Indian on the moon by 2040.
India should aim for setting up a (Indian Space station) by 2035 and work towards interplanetary missions (including a space vehicle to orbit Venus and one that will land on Mars).
International Space Station:
The International Space Station is developed and maintained by the U.S., Russia, Canada, Japan, and European agencies.
It is the largest space station.
It is expected to be decommissioned by 2030.